Return to

Shady A-H
Heuchera
Hosta
Shady I-Z
Ferns
Shady Native
Shady Ground Covers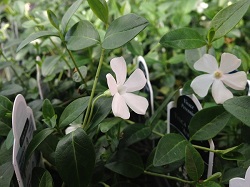 Vinca or Periwinkle is a well-known ground cover for shady areas. The evergreen foliage is attractive year round, as well as having pretty flowers in late spring. Useful under shrubs or trees, or in difficult sloped areas. Drought tolerant once established. Mow back every 3-4 years to thicken up the plants.

Like most good ground-covers, Vinca can become an aggressive spreader. It can out compete native plants in woodland setting and so we ask that you use caution before introducing Vinca to natural forested areas.

All photos taken at our nursery. Inclusion here does not always mean we have in stock.